Searching around, it turns out the GPD XD Plus is a great overall Handheld Retro Game Machine. Alternatively you can get a controller and use your phone but after having done that myself, it's kind of a pain. Another alternative of course is to just take a Nintendo Switch but that's only if you want to spend $300 and are only into Nintendo. You can also make your own. This channel "wermy" has a bunch of videos where you can create your own retro machines. But back to the main topic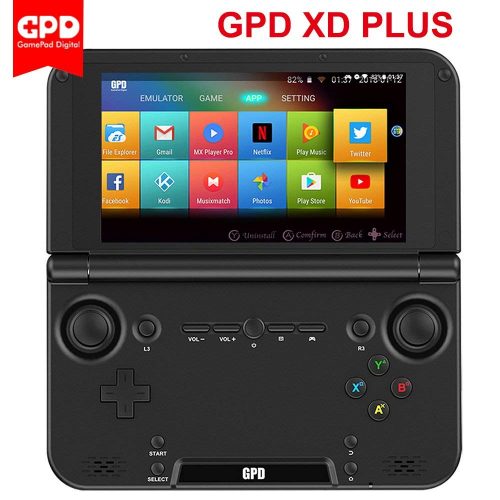 This is the GPD XD Plus – (Official Site)
The only down side to it is the price, about $240. Otherwise, you can find it on Amazon here.
I don't have this, let me make that clear but it sounds pretty good.
Read a really detailed post about it here.
and
A youtube user had this to say about it:
…the XD+ is capable of standalone emulating heavy PSP (GoW) and Gamecube (Wind Waker) games at near-full to full speed; Linus simply didn't bother to choose and configure the emulators properly. In fact, SNES, N64, PSX, NDS, DC and some PSP already worked full speed (no gamepad lag) on the original XD with skelton's Legacy ROM, which also easily got rid of the Metro launcher and bloatware. As their name rightly implies, the GPD (XD/Win) are portable gaming devices that can do lots on their own and pretty much anything through streaming; say, I even used to play BOTW on the original XD at college Campus, remotely streaming CEMU from my home with Splashtop. TL;DR: They're economic, powerful and very versatile portable devices, if you only care to learn how to use them.
How else I use the original GPD XD:

Email: Outlook and Gmail apps; work perfectly.

Social networks: Facebook, Messenger, Instagram apps; work perfectly.

Web browsing: Firefox app; very fast and multitab, no Youtube lag or stutter (auto-quality; seems 720p).

Movies & music: VLC app; works correctly on its own, sometimes stutters when HDMI outputting.

Remote file access: Dropbox (works correctly) & Splashtop (no longer admitts fullscreen mode gaming).

Studying: PDF Acrobat reader app; can read and highlight text perfectly for hours (got me through my Master).

Lecturing: output to projector through HDMI, specially PDF or PPT slideshows.
I also like this little computer by the same company, but it's $750. I don't have it either but it would be great for my work.
Are there other Handhold Retro Machines out there that are good or better? Let me know in the comments.