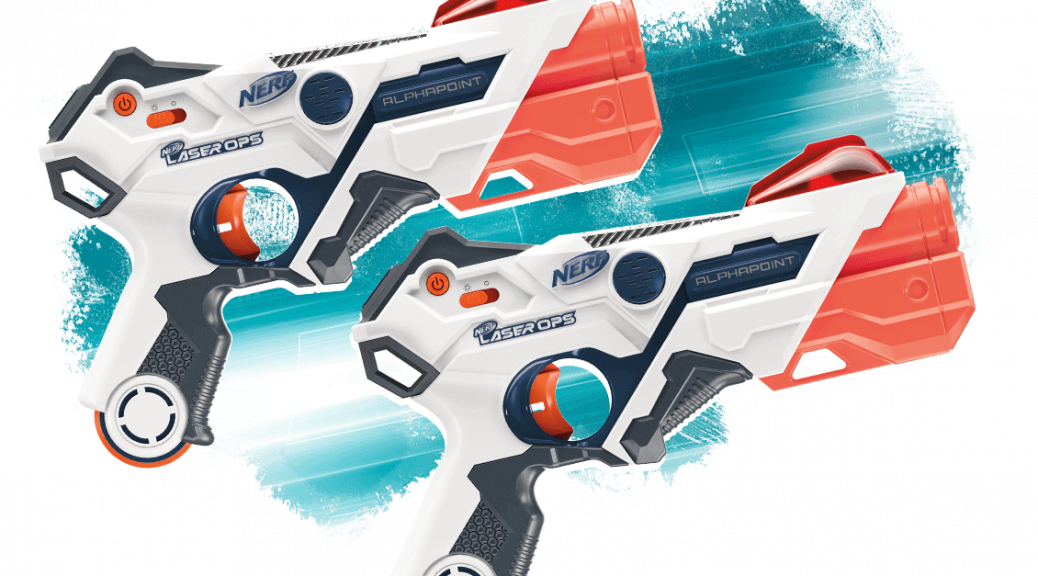 Nerf Laser Ops Pro is Amazing!
Nerf Laser Ops Pro is Amazing!
You have to act fast if you want to get on this. Both Target and Walmart are discontinuing these 3 sets and have them marked on clearance.
Is anyone old enough to remember Laser Tag?
I still have my set. I didn't have helmets but I have the hat and this "base station" that you shoot at. It was awesome and probably still is if I broke it out again. But it took a lot of batteries. haha.
But, The Nerf Laser Ops Pro – https://nerf.hasbro.com/en-us/laser-ops-pro has really improved things in 30 years.
The basics are you just need the guns (and a minimum of two) and you shoot at the guns to register a hit. That can get old somewhat quick normally but it also has a supporting app: Nerf Laser Ops Pro App at Google play
The app/phone is a pain to combine with the gun but it really enhances the gameplay. You create characters and sync the guns with your phone using Bluetooth. Then you can start either single player or multiplayer games. It has a timer and when the match ends, it gives you the stats and score. You even gain experience and level up and can spend points to unlock special abilities. That's super awesome. They suggest you use their attachment device and wear the phone on your arm as you play. But you can have it in your pocket or set it down then go back to it.
NERF LASER OPS PRO Single-player
You have to imagine how could single-player possibly work? Well you use this plastic thing and the rubber thing in the pictures to attach your phone to the gun. Then use the combo of the gun/app to play single player. It uses the camera similar to the GPS games/ARG which has you aiming the camera around and shooting at bots like Galaxian, Space Invaders, etc. That DOES get a bit repetitive, though. My arm was getting really tired. You then level up and can unlock more abilities to use in battle.
You can somewhat cheese it too and have one person aim with the phone while the other person just shoots or hits reload. That could be fun for 2 kids to do or to combine with a younger kid who can't manage to aim/hold a phone.
NERF LASER OPS PRO Guns
I don't have the giant gun but for the hand guns, there's an on button. There's a trigger. You hit the bottom of the gun to reload. On the back of the gun there are two indicators for health and ammo. They turn from green, yellow, to red. It also does this cool flashing/show when you die. The red thing on the top/end of the barrel is what you aim at to register a hit. There's a button on the side to change from INSIDE to Outside mode. Unfortunately we had it set at outside while playing inside. That resulted in us being able to hit people through walls, around corners, and where  you should never register a hit. That initially caused us to believe that it was broken until I guessed that was the cause. It probably pumps up the laser/whatever for OUTSIDE/SUN.
Finally there's a light on top that says what teams you are on. You can make blue team, red team, or FFA. That's cool too! We did strangely find that when we were both FFA, it didn't seem to register as well as just picking one blue/red player.
Phone Holders for NERF LASER OPS 
They smell weird. The texture is super creepy too. It feels like an "adult toy" haha. They also don't seem especially secure for a $1,000 phone. I'd only use them if you really trust your phone case or have a phone that's disposable/dropable.
There are 3 sets for NERF LASER OPS PRO
Double Gun Set. It was $49, but I just got it for $29.
Single Gun set with the attachment? (typically $29 but they're as low as $11 on clearance at target). The attachment you see there can be used to more easily play single-player with the app.
Deltaburst Rifle ($49+ but I'm seeing it as $34 on clearance at Target. However, it super feels like cheating vs.
the regular gun people so I think maybe stick to the handguns for fairness. haha.
We played an hour, just with the app and inside our small house with only one long hallway to use to play. I immediately bought a 3rd gun. I'd say grab as many as these as you can, especially at the $11 price. I think I might go drive and get just one more. You can then bring these to parks, or take them to work. I wanted to say bring them to school but then remembered how lame schools have got post 1980s haha. Another thing we plan on doing is meeting up with another person (Skullder) who has 3 guns of his own bring the total up to 6 players. Should be awesome.
Don't miss out!
Website: https://nerf.hasbro.com/en-us/laser-ops-pro
App: https://play.google.com/store/apps/details?id=com.hasbro.nerflaser
more videos: https://www.youtube.com/results?search_query=nerf+laser+ops+pro