11/13  – Got everything going. Now it's a matter of tuning it. I built my custom 6.5 woofer for under the seat for mid-bass
I rewired the back again a second time, moving the ground to UNDER the left seat with a better connector. Then moved the speaker wire down the left side.
BEFORE
Stocky tiny speaker/sub. 80 watt amp. Goal was to replace it with a 6.5 midbass woofer.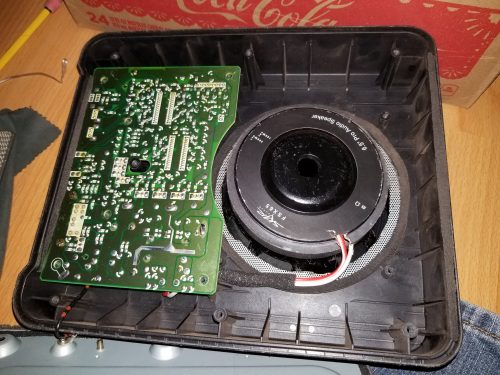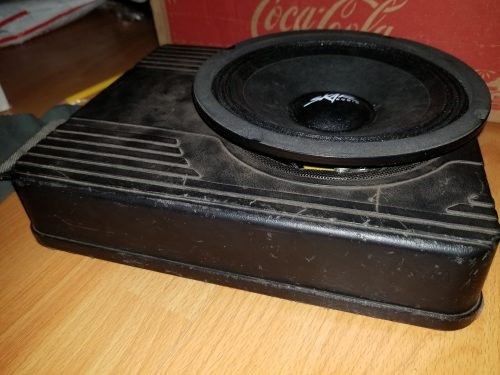 AFTER
$20 6.5 woofer, $10 spacers, $10 speaker tape. It rattles the seat it's under. haha. $10 dremel grinder.
11/8 – Got a better Dremal Metal cutting disc and this time instead of 10 that just blew apart, I was able to cut the whole OEM sub box to fit a new 6.5 mid bass.
Tried to drill a circle, didn't work. So did the above.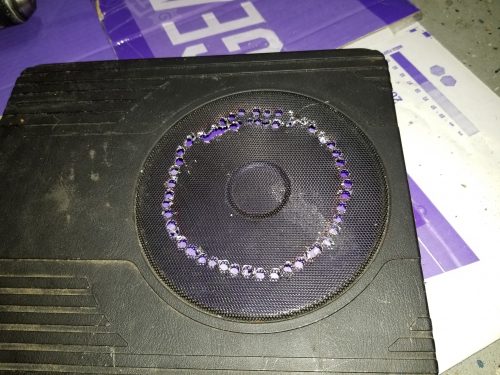 I learned how to test my battery. Looks like it's doing fine 14.4v.
I lost the bass for 2 days only to discover I had loosened the speaker wire and 1 fell out.
My current goal is to splice the OEM subwoofer into a LINE OUT item, then to the RCA inputs of the mono amp. Then somehow tune it for 4 types of speakers.
11/6 – Finally got all the missing parts to hook up the subwoofer and amp. I've also started to pull apart my OLD OEM AMP/SUB combo to replace it with a 6.5 Mid-Bass speaker. Right now I'm just waiting for a metal cutting blade for a Dremel to cut the hole bigger.
I have a really raw setup right now. The amp isn't mounted to the floor and the cables need to be routed through the middle console (PULL UP MIDDLE CONSOLE). Right now I was first wanting to get the sub going, THEN create my mid-bass speaker and wire that amp to the new subwoofer amp.
Also I'm messing around with the amp setup. I have no idea what i'm doing so I have to learn everyday and mess with all the complicated as f settings on my 2005 Alpine 9855 head unit. Right now it's kinda like it sounds like TWEETERS + BASS. Nothing in between. I think when I'm done adding the mid-bass it will sound better but I might have to get a $162 Alpine Type R Component set for the front doors.
I'm learning ALL of this. I've spent 10 hours of research. I've never done any of this. I also keep finding I'm missing tools.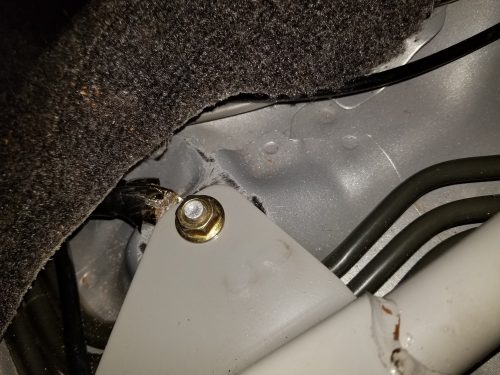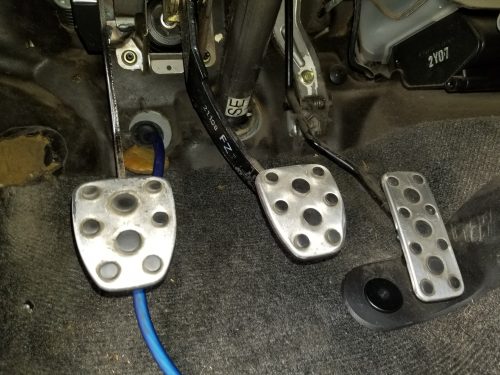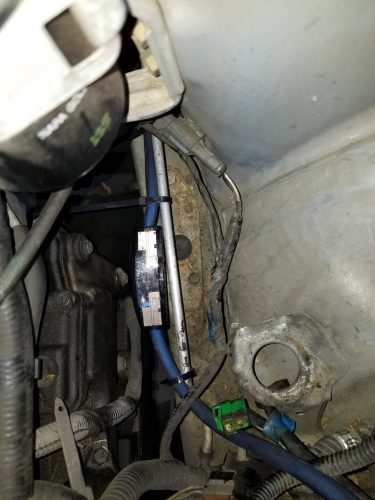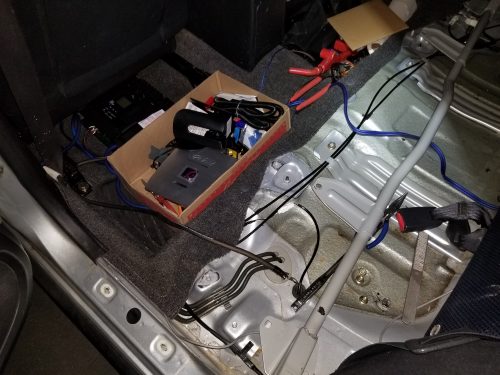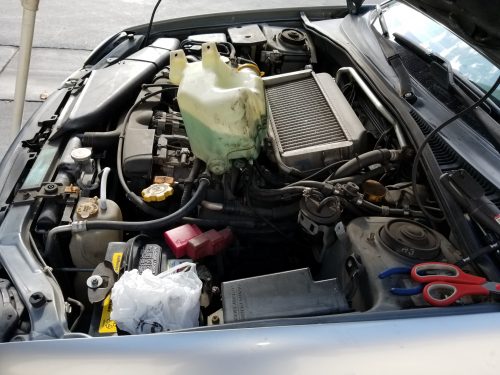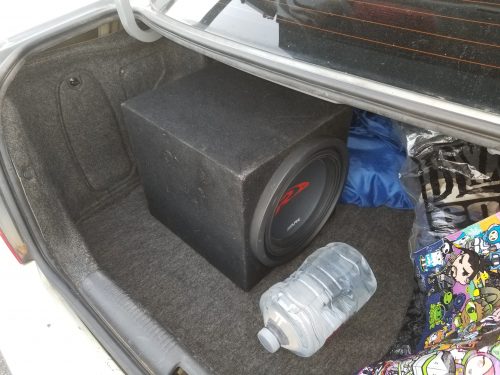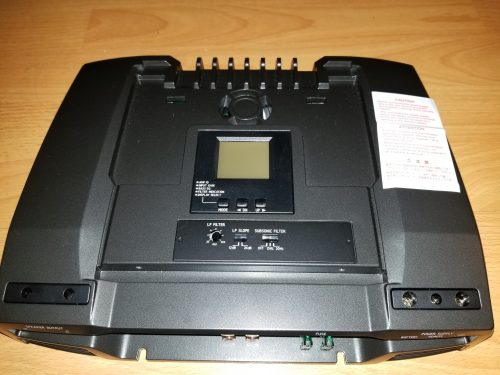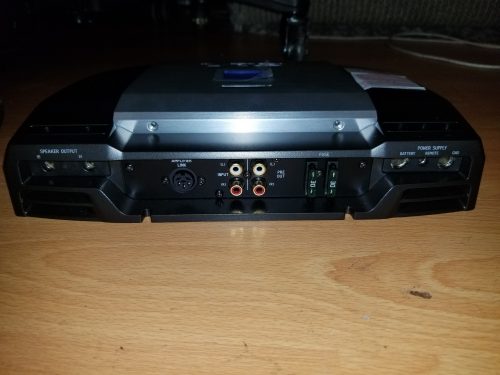 Bought:
But some KnuKonceptz positive battery post
I think here's my amp/sub. Not sure the model of sub. 
https://amzn.to/321XWM9 – Lockitt Posi-Tap 6pc pack #605/6 16-18 awg Blue
https://amzn.to/2PpST5r – Wire Cutter and Stripper, for 8-20 AWG Solid and 10-22 AWG Stranded Electrical Wire Klein Tools 11063W
https://amzn.to/2MYeaS7 – KnuKonceptz Kolossus 4 Gauge OFC Amplifier Installation Kit
https://amzn.to/2WnwbME Baomain ANL Fuse ANL-80 80 Amp 80A for Car Vehicles Audio System Sheet Gold Tone 2 Pack
https://amzn.to/32XBzsn PAC SNI-35 Variable LOC Line Out Converter
https://amzn.to/36ceMuN Tresalto Auto Trim Removal Tool Kit, Set of 5 Pcs
Update: Bought: an Alpine Type R – 12″ off Facebook Marketplace for $100. Hope it works.
Update: I bought this Alpine 605 Amp from 2005 on Ebay. https://www.crutchfield.com/S-MMo0KWStgsy/p_500MRDM605/Alpine-MRD-M605.html
Now I need to find speakers/install kit.
ORIGINAL
My car is 16 years old now and back in 2004/2005 I had bought a $500 stereo for it. But the fuckers didn't even give me the remote for it and as far as I can tell never configured it. I changed 1 setting on my stereo that has been wrong for 16 years and suddenly my stereo sounded way better. I guess I've been incredibly lazy about improving it. So I've spent 10+ hours researching on what to do. Finally I was led to this forum of posts from 2003/2004 about people upgrading their stereos.
I purchased a set of speaker spacers and some foam backing.
For starters I think I'm just going to replace the front speakers. The back ones from what I can tell are useless even when upgraded.
I discovered there's two prebuilt speaker holes in the back deck if I wanted to put in some 6×9 speakers.
I should probably spend about $300 on an amp and a sub. I don't know. We'll see.
I'll post my findings here if anyone is interested or who has stereo experience.
I THINK I purchased the premium sound upgrade which might mean I have better than stock speakers, but still kinda sucky. I have no idea. I have this shitty stock 6-8″ subwoofer under my seat. It works a little but not much.
HERE is a link to all my research
https://docs.google.com/document/d/1FN90TcCCNa3ZSrw_cB28TprZZw-giWH6hgK0sY7iId4/edit?usp=sharing